ROUND ROBIN TOURNAMENT
Join us in a full Round-Robin pickleball tournament! Every player faces every other player once, resulting in a maximum number of matches. At the end of the tournament, all player's scores are added up and whoever has the most wins is the champ. As a result of a tie, there would be play-off rounds to determine the winner.
REGISTRATION DATES
August 1 through September 13
Last day to register for a t-shirt September 1st.
TOURNAMENT DATES AND TIMES
Saturday, September 16 and Sunday, September 17
Start time: 10:00 am - 4:00 pm Round Robin Tournament
Free Play 4:00 pm - 6:00 pm
PRICING
By September 13th
YMCA Members: $30
Program Participants: $35
After September 14th
$40 for all
PARTICIPANTS REQUIREMENTS AND SPECTATORS
Ages 12 years and up are welcome to participate in the tournament. 
A Sports Waiver is required to participate in the tournament. 
Spectators are welcome!
WHERE
The tournament is hosted in the main gymnasium
at the Warlick Family YMCA located at 2221 Robinwood Road, Gastonia, NC 28056.

Saturday, September 16:
| Time | Event |
| --- | --- |
| TBD  | TBD |
| TBD | TBD |
| TBD | TBD |
Sunday, September 17:
Image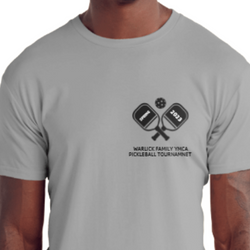 Tournament T-Shirts
Tournament t-shirts are included in the registration fee when you register by September 1st.