Fueling Your Mental and Physical Health for Overall Wellness
BALANCED EATING IS ESSENTIAL FOR:
Reducing the risk of heart disease, stroke, and osteoporosis
Weight maintenance
Reducing high blood pressure and high cholesterol
Increasing energy levels
Improve immunity
TRY THESE FOLLOWING RECIPES FOR A HEALTHY KICKSTART
Download the PDF of Recipes Now
Recipe provided by: Amy Ferrelli
Amy Ferrelli is a Registered Dietitian with the Warlick Family YMCA and is passionate about food and physiology. She received her degree in Health Science through Rutgers University.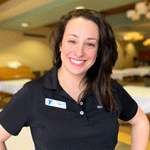 Contact Danika Reid at ywellness@gastonymca.org with questions or for more information about our nutrition programs.