REFRESH, RESTORE, RENEW
Everyone ages 12 years and up! This festival is for yogis, beginners, and anyone who wants to see what it's all about!
Saturday, September 23
8:00 am – 2:30 pm
At the Warlick Family YMCA
Flow, relax and enjoy a day of centering the mind, feeding the soul, and inspiring self-discovery. Blending elements of wellness and mindfulness in a natural, outdoor setting, Warlick Yoga Festival features a variety of yoga classes and workshops across the spectrum to invigorate and energize both the curious first-timers and the seasoned yogi. Start your day with a slow flow warm-up and move into the day with your choice of workshops, vendors and meditation. Whether you are looking to elevate your practice to the next level or seek out tips and techniques to improve your practice, there is plenty of opportunities to engage on and off the mat.
Yoga Fest will be happening at Camp Tuscarora just across Robinwood Lake from the Warlick Family YMCA including activities in the camp area, open areas, pavilion, and platforms.
WHAT TO BRING
Water bottle
Yoga mat
Cash for vendors and food/beverages (Please be aware that most vendors are only accepting cash.)
PRICING
YMCA Members: $30*
Program Participants: $35*
Day of registration for all: $40
*Must register by September 13th for guarantee an event t-shirt.
SHOP VENDORS AND PURCHASE FOOD
Admission is free to shop vendors and buy food

2023 Schedule
TIME
EVENT
8:30 am
Large group slow flow stretch with Caroline
9:00 am
Move and shop
9:15 am
Session One – Seven class options
10:00 am
Move and shop
10:15 am
Session Two – Seven class options
11:00 am
Break, Lunch, Shop
12:15 pm
Move and shop
12:30 pm
Session Three – Seven class options
1:15 pm
Move and shop
1:30 pm
Sound Bath followed by
large group Meditation Yoga Nidra with Kathleen
2:00 pm
Shop, enjoy, eat and drink!
Vendors and food will be available from 7:00 am - 3:00 pm
2023 Class Descriptions
CLASS
INSTRUCTOR
DESCRIPTION
Yoga for
Athletes
Barbara Langrall
We will work on the different aspects of the practice that will enhance your performance in athletics. Bringing balance and ease into your body.
Energetic
Holy Yoga Flow
Caroline Moon
Feeling stiff and worn down? This sequence will provide mobility and strength to the whole body! Be encouraged through God's word and connect with Him at your innermost point so that you can go out and live abundantly in His grace!
Energetic
Meditation and Breath
Kathleen Finch
This meditation uses visualization and breathwork to awaken your heart and feel the radiance surrounding you. Learn to tap into this light at any moment to use it as your guide.
Vinyasa Flow Yoga
Amanda Rodeheaver
Foundational postures with techniques that aid in stretching & strengthening. Discover how to move dynamically without sacrificing the quality of your breath.
Inner Strength (Pilates)
Janet McCarthy
Inner Strength is a strengthening and lengthening form of exercise that focuses on your core muscles while also training your arms and legs. We will incorporate postural alignment, breathing, strength controlled movement and flexibility.
Power Flow
Stephanie Smith
Reinvigorate your body from head to toe with a steady, energizing flow. This will be a challenging flow that brings a little more intensity with dynamic movements.
Mindful Yoga and Art
Chari Beire
In art, as in yoga, the idea of self-knowledge, self-realization, refinement and transcendence stand out. Come and see what your mind wants to create
Amanda Rodeheaver
Amanda has taught group exercise for the YMCA since 2013, including yoga since 2016. She obtained 200 hour yoga teacher training in 2016.
Barbara Langrall
Barb is a 200 Registered Yoga Teacher certified through Yoga Alliance, having taught over 700 yoga classes. In additional, she has earned 100 hour certificate from Threes Physiyoga - an anatomically focused program designed and taught by PTs.
Caroline Moon
Caroline is a Registered Yoga Teacher 500 with an additional 500 hours in trainings on top of that. She has had two, 200 hour trainings and two, 300 hour trainings as well as taken masters and therapy programs, and two basic certifications. She is also proud to be  certified in kids yoga and chair yoga.
Chari Beire
Chari began practicing yoga in 2002 as a step on the path to self-love and healing. She's endlessly grateful to all her teachers who have lit the way and is honored to share this light with others. After 20 years of practicing yoga, Chari decided to get her 200 hour certification this year through Yoga Renew. She holds a BA in Visual Art and Interior Design and hopes to incorporate "Mindful Art into her yoga practice.
Janet McCarthy
Janet is a certified mat Pilates instructor. A personal trainer and is certified in Les Mills Body Balance. She loves teaching the principles of Pilates that promotes strength, balance, and flexibility through breath and the mind-body connection.
Kathleen Finch
Kathleen completed her 200 hour Yogaheart Yoga Training with Elemental Moon Yoga as a source of healing during the pandemic. Working in healthcare as a nurse during such harrowing times prompted a deep spiritual dive that lead to the healing power of yoga. She now teaches deep stretch yoga at the Warlick Family YMCA & the creative awakening that yoga spurred on prompted her to create her own arts nonprofit Carolinas Street Art Collaborative. She believes wholeheartedly that the coalescence of art & wellness practices such as yoga brings us ever closer to peace.
Stephanie Smith
Stephanie has a 200 hour yoga certification in chakra flow, a vinyasa style of yoga designed to move energy up the chakras. She is also certified in Yin Yoga and Chair Yoga. She is in the midst of completing an additional 300 hour yoga certification. She also studied in a year-long program with the Ancestral Knowledge School in a program of self-discovery designed to awaken the shaman within. As Stephanie teaches, she tries to hold space for yogis to explore their physical, emotional, and spiritual bodies.
Image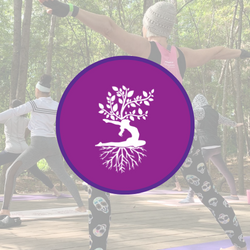 THANK YOU TO OUR 2023 SPONSORS

BECOME A SPONSOR
Learn more about our Yoga Fest sponsorship opportunities.